Become a Certified birth companion
6 week childbirth companion & advocacy certified course
Formerly known as the 'Doula Course' CHANGE BIRTH, CHANGE THE WORLD!
This course is accredited by IPHM so is recognised in the UK, USA, Canada, Australia and most of Europe.
Formerly known as the 'doula course' Our six-week intensive training program (followed by a lifetime access to monthly education webinars) is just what you need. Our course is focused on self and spiritual development, equipping you with the essential skills and knowledge to support women during pregnancy, birth, and beyond. With our transformational course, you can change the world one birth at a time. Join us now!
This course launches in February 2024!
Transform Lives, Starting with Your Own: Join Our Unique Childbirth Advocacy Course
Are you ready to be at the forefront of change in childbirth care? Our Certified Childbirth Companion & Advocacy Course offers something extraordinary – a deep and transformative journey into emotional and spiritual growth. This is not just an educational program; it's an awakening. By integrating this crucial component, we empower you to become more than just a birth companion; you become a catalyst for positive change, in both the world of childbirth and beyond.
Superior Childbirth Education: Supporting Women Inside and Outside the Maternity System
Our course offers superior childbirth education, equipping you with the knowledge and skills to support women throughout pregnancy and birth, whether within the traditional maternity system or beyond it. No prior experience is necessary, making this course an ideal alternative for those who have considered midwifery but are looking for a more holistic and woman-centered approach. We provide you with the tools and understanding to empower women in their childbirth journey, offering unparalleled support and care.
important information!
You MUST be willing to do the inner work to participate on this course.
We include a critical component to our course that others miss: a deep dive into emotional and spiritual work. This aspect is not just an addition to our curriculum—it's the heart of it. We believe that to truly impact the world of childbirth and create a lasting ripple effect, this inner journey is essential!
We prioritise a transformative journey that delves deep into emotional and spiritual growth. This critical component, unique to our curriculum, is designed for those ready to explore and heal from within, as we believe true change in the world of childbirth begins with oneself. Before enrolling, it's essential to embrace this commitment to personal development. If you're prepared to undertake this introspective journey and contribute to a profound societal shift, our course awaits you. Remember, the right candidate is not just learning skills but is also willing to address the roots to change the fruits of society. This aspect of learning is crucial and distinct to our course; if it resonates with you, you're in the right place.
About the course
course information
6 week certified online course (accredited by IPHM)

Welcome pack – Book & merchandise

6 modules
Home-study online (study at your own pace)
Regular live sessions for interactive student support.
Student community support – whatsapp
PDF handouts
Further study resources
Infographics
Post-course mentoring
Post-course monthly meet up & education webinars
Community access to the When Push Comes To Shove tribe
Directory listing – WPCTS get plenty of enquiries so if someone enquires in your area we shall pass on your details.
Course investment- £999 (payment plans available)
What you will learn
Course Content
As a certified birth companion, you will provide non-medical support throughout pregnancy and birth, attending women in labour as a natural birth practitioner. Many women want to train to become a midwife but soon learn that the original meaning of midwife 'with woman' simply means 'with system'. Our ethos is woman centred care. Our courses teach normal, physiological birth, not clinical practice.
Our course is designed for those who value personal self-development and want to give women continuity of care throughout their pregnancy and birth. Unlike other courses, our curriculum includes traditional birth education and specialised training in human rights, self-employment tips and tricks, and financial literacy from the 'Money Is Love' model.
While our course is rich in content with regards to pregnancy, birth and post-natal education, we also teach the fundamentals of self development. This is actually CRUCIAL in becoming the best birth worker you can be. We also believe this why WPCTS are achieving such outstanding birth statistics compared with the mainstream system. We work on a much deeper level.
Our course is centred around personal growth and spiritual development. It is vital to be the best 'you' you can be. Especially if you are going to support women during the most sacred time of their life. We explore emotional, psychological and spiritual growth.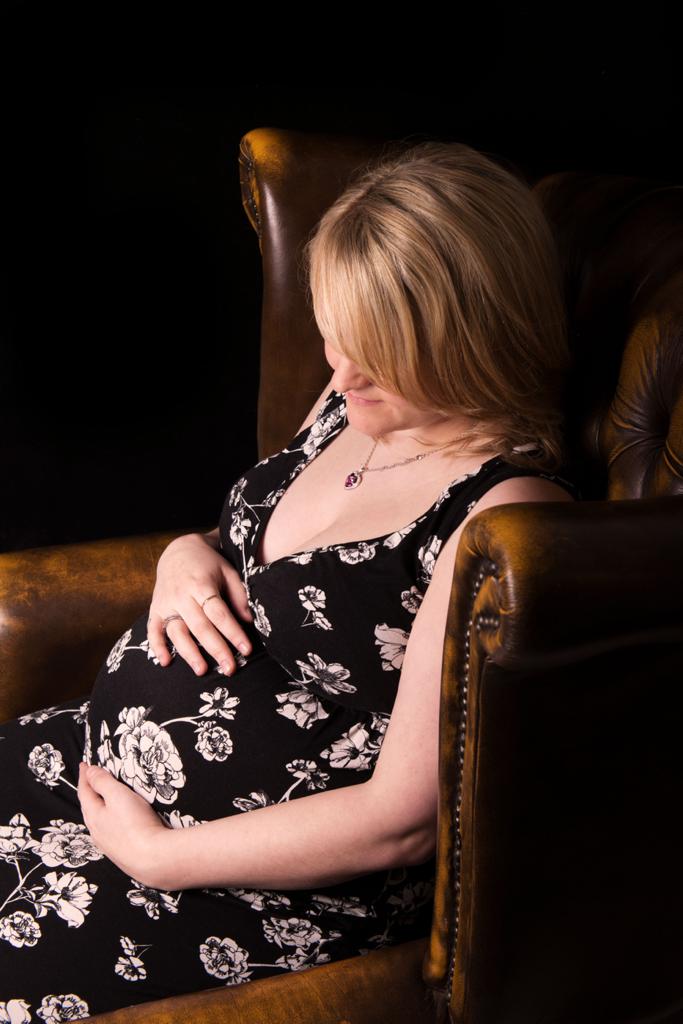 we teach much more than birth
course components
The 6 Human Needs
Understanding authenticity (your higher self)
Samahdi
Understanding egoic archetypes and how this shapes our behaviour
Active listening & understanding trauma
Physiological birth
Human rights in birth
Natural remedies
Induction of labour
Obstetric scenarios
Marketing your business
Post natal care
Breastfeeding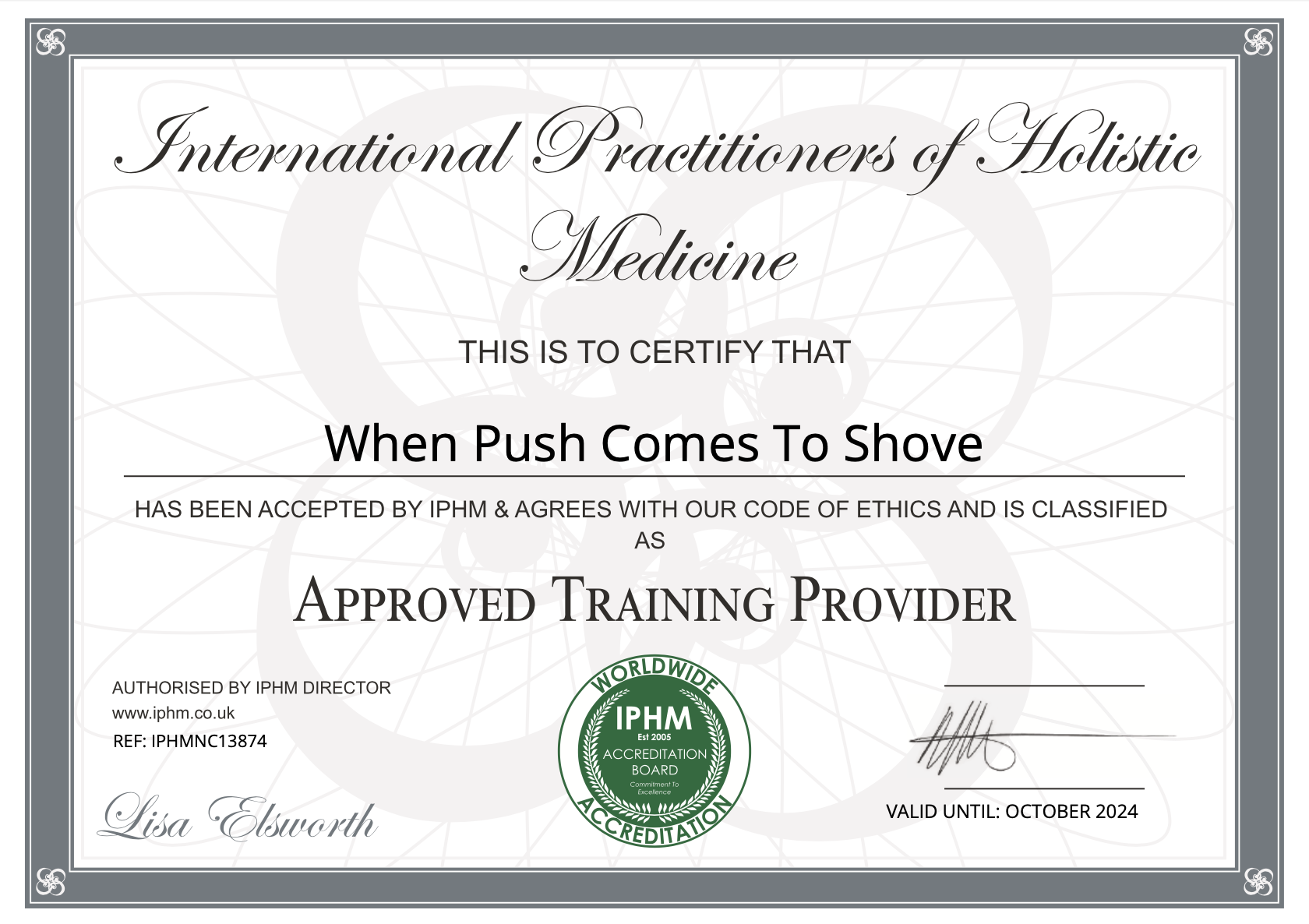 Transformational, not transactional
Why is our Course so unique?
When Push Comes To Shove is an accredited training provider with IPHM
The main reason why we stand out amongst the rest is because our course is transformational, not transactional. We provide immeasurable value. We focus on personal growth and development, rather than just imparting information or knowledge. WPCTS courses aim to transform the way a person thinks, acts, and relates to the world around them.
Here are just a few points that explain why our doula courses are exceptional. You will learn:
Deeper Learning
Transformational courses encourage you to reflect on your experiences, question your assumptions, and challenge your beliefs. This type of reflective learning can lead to deeper understanding and retention of the material.
Freedom movement
At WPCTS, we provide training that comes with a plethora of perks, all at no extra cost.We're the only maternity organisation that aligns with the freedom movement and supports informed consent. Our focus is on promoting autonomy and freedom of speech, and we'll never coerce anyone into using specific language or opting for 'mandated' medical intervention.
Personal Growth & sisterhood
Our doula courses prioritise personal growth and development, which can lead to increased self-awareness, confidence, and motivation. This can be particularly beneficial for students who are looking to make significant changes in their lives.
We prioritise community support, too. When you complete our course, you'll be added to our support group, which includes past students, wise birth keepers, and midwives from around the world. This community offers 24-hour access to support and guidance throughout your journey. You will also have the opportunity for deeper support by joining When Push Comes To Shove Plus. A membership that offers exclusive content for further learning as well as monthly zooms with giants of the freedom movement such as Jaclyn Dunne, Phil Escott, Laura Shanley, Billie Harrigan and many more. Hear their stories and ask as many questions as you like!
Client acquisition
We offer a range of practical benefits to our students. For example, we provide a directory listing so potential clients can easily find and connect with you. We also offer direct work opportunities to 60% of our graduates within three months of certification, a statistic we're proud of. Although we cannot promise you work, we will most certainly provide you with the tools to grow your own business! We also believe in financial freedom! There is no virtue in poverty. Explore ways to create a passive income while you are serving the world with your gifts.
Improved Relationships
Learning with WPCTS often encourage students to develop stronger relationships with their peers and instructors. This can foster a sense of community and support, which can be particularly helpful for students who may feel isolated or disconnected.
module 1
Introduction to trauma in childbirth
Generational trauma
Becoming our authentic selves
Brief history of childbirth
module 2
Health in pregnancy – Mind, body, soul connection.
Nutrition – preventing common pregnancy ailments
Alternatives to drugs
Common interventions during pregnancy
module 3
Signs of labour
Stages of labour – The myth!
Vaginal exams – Are they necessary?
Supporting your clients throughout labour
Birth physiology & anatomy

.
module 4
Pain relief
High Risk
'Overdue'
Induction of labour
Where to give birth?
Caesarean Operation
module 5
Golden Hour
Breastfeeding
Postnatal care
Vaccinations
module 6
Human rights in pregnancy and birth
How to navigate the maternity system
Crafting a birth plan
How to structure your business

.
"This course is incredible, it's been part of an empowering journey. Not only do you learn about physiological birth, you learn how to support a woman through pregnancy and birth. The knowledge I have gained I can now pass on to others, I can be part of positive change for women ready to take responsibility for their births back. Peace on earth begins at birth, it really does."
"Having come across Nickita through all the amazing work she does to advocate for women and their choices in birth I knew it was a course I wanted to do. Having now completed it I can honestly say it has changed my life. Nickita has created a platform for like-minded women to truly discuss and understand the majesty of our nature as woman and mothers. The course was comprehensive and taught in an extremely safe and welcoming environment. The learning is also continuous after the course ensuring all new Doulas are supported and part of a tribe. I've had the opportunity to meet incredible women and to learn far more than just the practical side of what being a Doula is, the course has opened up a deep spiritual yerning and all I feel now is LOVE. Thank you to Nickita and Rachel and to all the beautiful women I've started this journey with!"
"Before I started the Doula course, I was afraid of another intense study course, where you wouldn't be able to keep up.
This course though is a revolutionary wealth of knowledge that keeps you so engaged that you don't want to be anywhere else. I connected with the ways Nickita is teaching, as it truly comes from the heart!
So grateful I could take this opportunity to expand beyond the horizon of seeing birthing and pregnancy just as it is pictured everywhere else!"
Inspirational and life changing! Nickita is the most wonderful human- her knowledge is amazing, she delivers the course material so thoroughly in a relaxed and supportive way and she genuinely cares about each and every person there. Not only do you receive all of the information needed to feel confident to step into the birth world, but you are guided and held through your own personal growth journey. Once you have completed the training you are then welcomed into the most beautiful tribe of like minded women, who could not be more beautiful souls (a true reflection of Nickita herself). The support is there 24/7, not just for birth questions but for spiritual, emotional and mental guidance too, and lots of fun! I've been in a lot of womens spaces, but this one is pure love. Plus you receive additional trainings each month and so much ongoing support. I can not recommend this course enough.
Payment Options
Start your journey
Starts February 2024
Six Weeks Intensive training
Course handbook
Lifetime access to Learning Center
Spotlight Features at WPCTS
24/7 Support Group
Client offers direct from WPCTS
Mentorship
Directory Listing
Monthly Webinars
Make 3 payments of £333 using Klarna
18+, T&C apply, Credit subject to status.
is this for me?
Who Will Benefit from This Course?
The "Childbirth Companion & Advocacy Certified Course", formerly known as the 'Doula Course', is intricately designed to cater to a wide range of individuals passionate about maternal care, personal development, and advocacy. If you fit into any of the following categories, this course may be a life-changing experience for you:
Aspiring Birth Companions: If you're passionate about supporting pregnant women but are seeking an alternative to systemic midwifery, this course offers a holistic approach to birth companionship. With emphasis on woman-centred care, it introduces you to the role of a birth companion who advocates for natural and physiological births. Please note, this is NOT a clinical midwifery course.
Self-development Enthusiasts: This course uniquely blends traditional birth education with personal and spiritual growth modules. Whether you're interested in understanding authenticity, diving deep into the 6 Human Needs, or exploring Samahdi, this course integrates self-improvement with childbirth education.
Entrepreneurial Women: For those looking to turn their passion of childbirth into a profession, the course offers practical advice on starting and marketing your business, understanding financial literacy through the 'Money Is Love' model, and even passive income strategies that align with your calling.
Advocates for Women's Rights: With modules focusing on human rights in birth, navigating the maternity system, and understanding the history and trauma in childbirth, this course is ideal for those who wish to advocate for women's rights, particularly during pregnancy and childbirth.
Holistic Health Enthusiasts: This course dives deep into topics such as nutrition during pregnancy, alternatives to drugs, and the mind, body, and soul connection. If you're interested in promoting health in a holistic manner, this course will equip you with the necessary knowledge.
Continuous Learners: The regular live sessions, student community support via WhatsApp, post-course mentoring, and monthly educational webinars ensure that learning doesn't stop after six weeks. Students also gain access to the "When Push Comes To Shove" tribe, fostering a sense of community and ongoing growth.
Expectant mothers: If you are expecting a baby and would like a very deep dive into understanding the maternity system, the miracles that your body is capable of and knowing your rights in birth, this course is also for you!
In essence, this course is for anyone looking to blend their passion for women's well-being with personal growth, business acumen, and advocacy. Whether you are at the beginning of your journey or are already in the field looking to enhance your skills and knowledge, this course promises comprehensive learning and networking opportunities.
No matter your connection to the process of childbirth, this certified course provides invaluable insights, tools, and techniques that will empower you to play a positive, informed, and supportive role in the journey of bringing new life into the world. Join us and enrich your understanding of one of life's most profound experiences.
Are most commonly asked questions
FAQ
Still have questions?
Get in touch